When:
February 17, 2018 @ 1:30 pm – 3:30 pm
2018-02-17T13:30:00-08:00
2018-02-17T15:30:00-08:00
Where:
Canada Berries Winery
12791 Blundell Rd
Richmond, BC V6W 1B4
Canada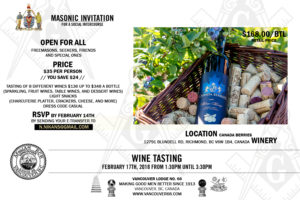 OPEN FOR ALL
Freemasons, special ones, friends and seekers
PRICE $35 per person
//you SAVE $24//
– Tasting of 8 different wines (sparkling, fruit wines, table wines, and dessert wines) ranging from $136 up to $348 a bottle
– Light snacks (charcuterie Platter, crackers, cheese, and more)
Tasting takes approximately 1.5 hours. Free parking is available, drivers are asked to inform server prior to alcohol service. Please inform of any food allergies at time of booking and prior to start of session.
LOCATION
Canada Berries
12791 Blundell Rd
Richmond, BC V6W 1B4
Canada
RSVP by February 14th, 2018
by paying cash to the Junior Warden or by sending money via e-transfer to n.nikans@gmail.com
Learn more about the event at http://vancouver68.com/masonic-wine-tasting-event-at-canada-berries-winery/