Feb
17
Sat
Wine Tasting at Canada Berries

@ Canada Berries Winery
Feb 17 @ 1:30 pm – 3:30 pm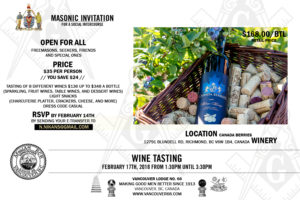 OPEN FOR ALL
Freemasons, special ones, friends and seekers
PRICE $35 per person
//you SAVE $24//
– Tasting of 8 different wines (sparkling, fruit wines, table wines, and dessert wines) ranging from $136 up to $348 a bottle
– Light snacks (charcuterie Platter, crackers, cheese, and more)
Tasting takes approximately 1.5 hours. Free parking is available, drivers are asked to inform server prior to alcohol service. Please inform of any food allergies at time of booking and prior to start of session.
LOCATION
Canada Berries
12791 Blundell Rd
Richmond, BC V6W 1B4
Canada
RSVP by February 14th, 2018
by paying cash to the Junior Warden or by sending money via e-transfer to n.nikans@gmail.com
Learn more about the event at http://vancouver68.com/masonic-wine-tasting-event-at-canada-berries-winery/
Jun
17
Sun
Grand Lodge Trip & Fishing Trip on June 21-23, 2018
Jun 17 @ 9:00 am – Jun 20 @ 8:00 pm
Brethren of Capilano 164 are scheduling a Motorcycle Ride and Fishing Trip on our way up to Grand Lodge Communications held in Prince George June 21-23, 2018.
Some members will be driving their cars and joining us for the Fishing Trip.
Most likely, we will be leaving on June 17, 2018, Fishing June 18 – 20, then traveling to Grand Lodge Comm. on June 21.
Cost have not been determined, as the guided tours depends on numbers.
If anyone who knows me will attest, you will have a great time, as I plan out everything.
Please confirm your participation